Quality audience
The core audience (60%) is 4 498 large end users from all regions of Russia, state organizations and major corporations. They account for 80% of all budgets for security equipment and services in Russia.
7 497 managers and specialists who visited the exhibition and congress during 3 days of work. Every day - a new audience segment:
* representatives of government departments and ministries;
* managers of transport facilities and transport infrastructure;
* city, municipal and regional administrations;
* owners of sports facilities and organizers of sports and mass events;
* responsible for the fire safety of mass gathering places;
* heads of information and integrated security of industrial, oil and gas and electric power facilities;
* heads of security services, economic security, anti-theft and other retailers and shopping centers;
* designers and responsible for the safety of construction projects;
* security directors, heads of information and analytical departments, IS departments, physical protection and personal security of banks and financial organizations.
14 VIP events of the business program
4,277 delegates (20% more than in 2019) participated in 12 conferences and two round tables. The official level of speakers and listeners has significantly increased.
This year, there was a high activity of representatives from the industry, fuel and energy sector and the oil and gas sphere. The conference focuses on critical facilities and information infrastructures, industrial security and digital technologies.
The protection of the upper hemisphere and the use of UAVs in safety were discussed at several events, including a profile round table.
The changes expected in the fire protection system affect the work of thousands of enterprises. The Ministry of emergency situations of Russia, the Union of insurers of Russia and heads of shopping centers, banks and hotels shared their plans and discussed innovations.
Managers of places of mass gathering have to solve the problem of ensuring the safety of visitors, and cultural facilities also provide protection on cultural heritage items from criminal attacks. These and other issues were actively discussed at the relevant conference.
Digitalization in all areas changes the management of territories, the economy of regions, interaction with citizens, and the business environment. The most important thing in the development of regional security programs, "smart cities" and even districts was shared by city administrations and city managers.
Information systems and infrastructures, secure development, and all the most important information protection issues were learned by the heads of the IS departments at the only FSTEC conference of the year dedicated to new requirements and best practices.
A new stage of development is beginning in the field of transport security. The advanced management models, such as incident management and geoinformation systems are first introduced in transport security. The conference marked a new height of world-class achievements and brought together key experts from all over the country to share their experience.
The transformation of the business model of the banking sector, implemented by the country's largest financial organizations, is impossible without resistance to external and internal influences and threats. The SecuFinance conference attracted high interest from both bankers and their colleagues from other sectors. Traditional approach and artificial intelligence in security tasks, a unified biometric system, predicative analytics and personnel control - this is an incomplete list of this event.
Retail chains in Russia are expanding, facing new challenges of efficiency and security. The development of remote trade creates new challenges in logistics management, reducing staff costs requires reliable machine vision and intelligence, and incident management serves the needs of business. SecuRetail participants appreciated the interesting and practical content of this annual meeting.
At the conference on the topic of situation analysis centers, participants shared practical experience in creating and operating case studies of situation and dispatch centers in various industries and made sure that successful practices can also be broadcast on related topics.
The main vector of development of modern society is the course towards the digital economy. Implementation of this direction is impossible without ensuring security and trust guarantees within the critical information infrastructure. For the first time, a conference was held to discuss the improvement of the Russian regulatory framework and the development of Russian technological solutions that will allow the implementation of modern digital services and guarantee the trust and security.
Discussions within the Forum and its working groups are aimed at identifying practically valuable ideas, taking into account digitalization in construction and the dialogue of key participants. The conference for designers launched practical discussions in working groups throughout the year.
Video Analytics systems are the mainstream of the entire concept of video surveillance, because they allow you to turn passive video surveillance into an active control process and increase the value of such systems for business. The latest achievements in the field of artificial intelligence and self-learning neural networks were discussed at an intersectoral round table.
258 speakers - regulators, major customers, developers and recognized experts, including:
Andrey Muravyov (Vnukovo airport), Viktor Ermakov (Sheremetyevo airport), Andrey Kichigin (Moscow metro), Alexander Gorbatko (Department of information technologies of Moscow), Elena Balashova (City administration of Tolyatti), Alexander Evsin (Traffic management center of Moscow), Kirill Malyshkin (Department of regional security and combating corruption of Moscow), Alexander Rybas (Rostekhnadzor), Alexander Krasavin (Glavgosexpertiza of Russia), Roman Gudov (Norilsk Nickel), Alexander Klopov (RusHydro), Andrew Nuykin (EVRAZ), Vitaly Lyutikov (FSTEC of Russia), Ivan Badekha (Norilsk Nickel), Vladimir Dozhdev (Minpromtorg), Pavel Revenkov (Bank of Russia), Valery Torchikov (Sberbank), Vladimir Demin (VEB Innovation), Alex Danilevsky (Raiffeisenbank), Dmitry Manannikov (OBI), Vyacheslav Mikhailovsky (METRO Cash & Carry), Andrey Pashev (Pyaterochka), Rinat Enikeev (EMERCOM of Russia), Alexey Popkov (Afimall city), Andrey Kayman (General staff), Nikita Sivoy (Gazprom Neft) and many others.
The International Forum of Security & Safety Technologies was supported by partners as: Confident group of companies, Security Code, Smart Line Inc, InfoWatch, IBS Platformix, VLIBOR systems, Rostelecom-Solar, Kaspersky Lab, ELVIS-PLUS, SUPERTEL, Rusiem, EPOTOS ®, AMT-GROUP, Panasonic, Neoscan, Pozhtekhnika, GCS (Systematics Group), dormacaba Eurasia, DAHUA technology Rus, Bosch Security Systems, DSSL, Security Vision, RELEX, Institute of engineering physics, Flamax, Mona (3M).
Review of solutions and technologies
44 new participants demonstrated their solutions at the technology show, including 3C GROUP LTD, Bosch Security Systems, IBS Platformix, InfoWatch, Mail.ru for business, PBF Group, ABLOY, AV Soft, Alcatel-Lucent Enterprise CIS, Almaz-SP, AMICON, Argut, ACC, Barnet, BellSoft, Vidau, Diamant, dormacaba Eurasia, DSSL, Euromobile, Innovative Fire Safety Systems, INFOSECURITY, Source Plus, concern "Sozvezdie", M2media, research center "Technologies", Panasonic Rus, ProSoft-Biometrics, RELEX, Rostelecom-Solar, RTI, RuSiem, SIB, Systematics Trade, Smart line Inc, Speclab, NPO Sptech, Sputnik, STILSOFT, NPO Strela, SUPERTEL, EPOTOS ® , Unitech, etc.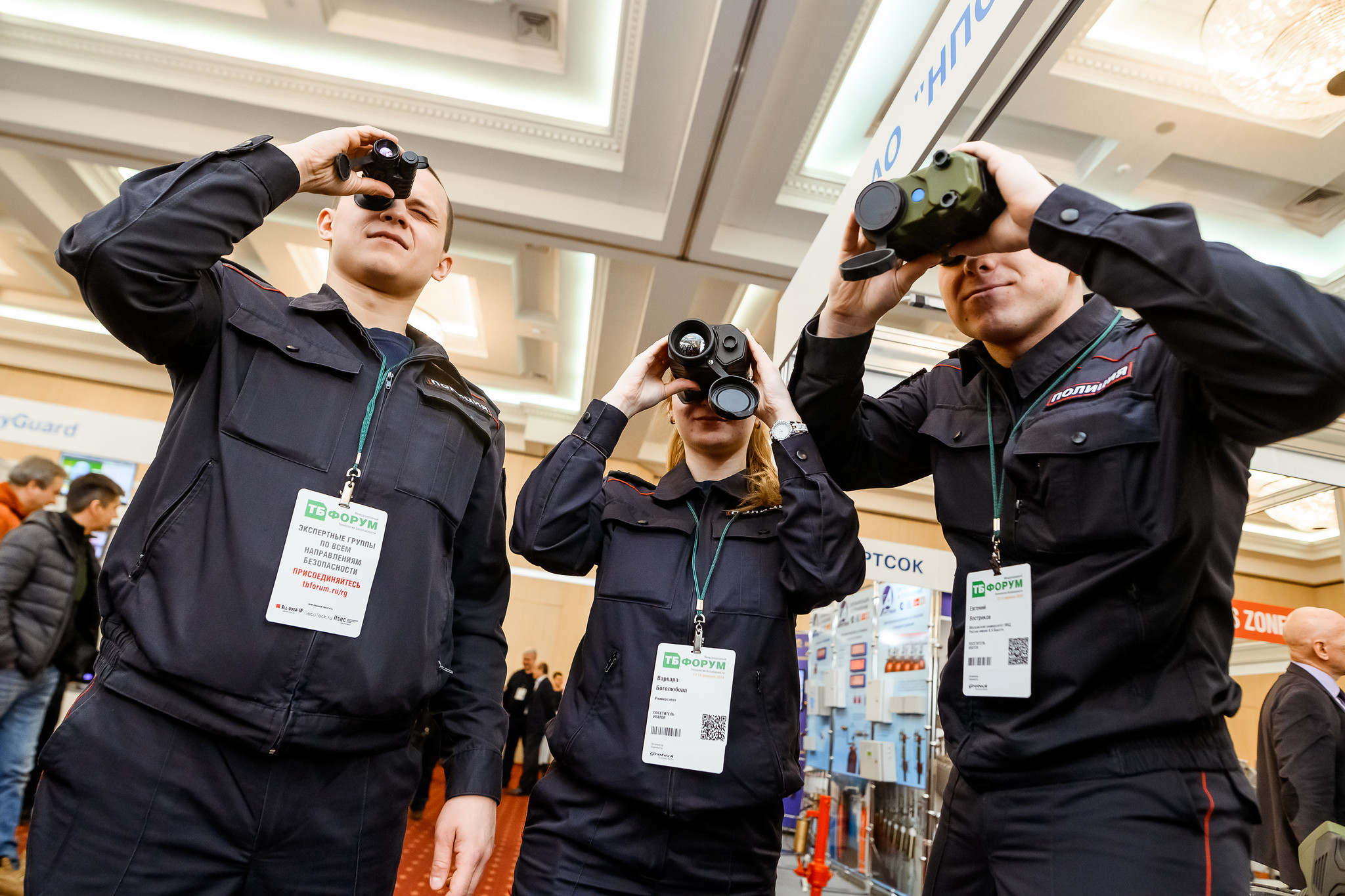 A series of meetings of regulators, customers and suppliers
For the first time a full program of meetings with customers was implemented in the VIP-lounge: 78 representatives of customers and 181 representatives of companies participating in the Forum took part in 17 meetings. Among the participants are: Moscow security, City-XXI century, PIK, Moscow Domodedovo airport, Rosneft, Gazprom Neft, NorNickel, Rosatom, the Administration of sea ports of the Black sea, FESCO Transportation Group, Volga shipping company, NIPIGAZ, Administration of the Governor of the Novosibirsk region, Krasnaya Presnya, Russian state library, Sabetta international airport, AIRBRIDGECARGO AIRLINE, Mosoblgeotrest, Passazhiravtotrans, Mostransproject, Moscow metro, TS "Monetka", Maxi, Castorama Rus, X5 Retail Group, FPC, Directorate of railway stations, GRCC, RTRS, Tele 2, Severalmaz, EuroChem, Raiffeisenbank, Alfa-Bank and others.
Book participation in the Forum now, get invitations to meet with customers — and find new potential buyers from among government customers and major corporations https://eng.tbforum.ru/participate-new