The XXV Anniversary International Forum of Security&Safety Technologies will begin in three weeks. From February 11 till 13, the Crocus Congress Hall will host the largest annual convention and exhibition event in the security industry.
The exposition of the 25th Anniversary Forum of Security&Safety Technologies 2020 is fully formed. Come to the event and meet new participants. Register yourself here or leave the application here >>
44 companies will present their solutions at the Forum for the first time: 3C GROUP LTD, Bosch Security Systems, IBS Platformix, InfoWatch, Mail.ru for business, PBF Group, ABLOY, AV Soft, Alcatel-Lucent Enterprise CIS, Almaz-SP, Amicon, Argut, ACC, Barnet, BellSoft, Vidau, Diamant, Dormakaba Eurasia, DSSL, Euromobile, Innovative Fire Safety Systems, INFOSECURITY, Source Plus, Concern "Constellation", M2media, research center "Technologies", Panasonic Rus, ProSoft-Biometrics, RELEX, Rostelecom-Solar, RTI Systems, Rrusiem, SIB, Systematics Trade, Smart line Inc, SpecLab, Spetstekhnika, Sputnik, Stilsoft, Strela, SUPERTEL, EPOTOS, Unitech, etc. Full list of participants >>
New products, solutions and projects presented at the participants' booths solve the tasks of managers and specialists in the transport, construction, industrial, financial, and trade industries, government organizations, and social institutions.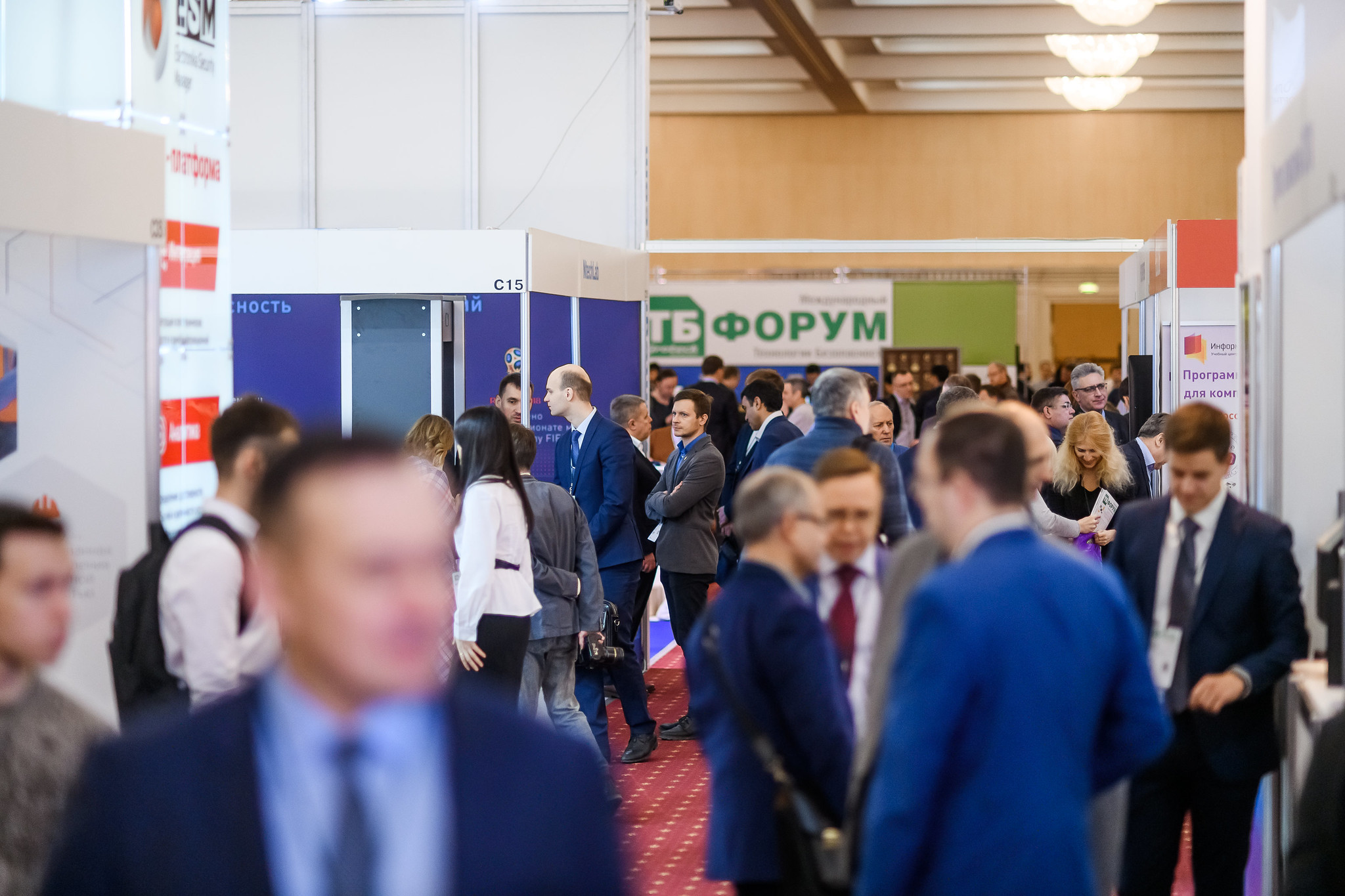 Business program — 14 VIP events on all national security issues for 3 days of the Forum. Direct dialogue of regulators, consumers and suppliers, new regulations and practices of their implementation, industry specifics: transport, urban infrastructure, industry, oil & gas, energy, banks and finance, retail.
New in the program:
Conference "Situation and analytical, dispatch centers: cross-industry experience"

Conference "Safety of places of mass stay of people": shopping centers and offices, sports and concert venues, museums, theaters, libraries, parks

Conference "Industry 4.0. The practice of implementation of information technologies: transport, telecom, energy"

Conference "UAVs: industry specifics. Practice application and threats"

Round table "Building smart districts: results and prospects"

Round table "Intelligent video surveillance in security systems. Cross-industry case studies"
In 2020 TB Forum is supported by partners as: Confident group of companies, Security code, Smart Line Inc, InfoWatch, IBS Platformix, WLIBOR Systems, Rostelecom-Solar, Kaspersky, ELVIS-PLUS, SUPERTEL, Rusiem, EPOTOS, AMT GROUP, Panasonic, Neoscan, Pozhtekhnika, GCS (JSC "Systematics Group"), Dormakaba Eurasia, DSSL, Security Vision, RELEX, Institute of engineering physics.
Get your ticket and come! We're look forward meeting you soon!