This was the largest event in the last decade, and during 25 years of development, the International Forum of Security & Safety Technologies has gone from an exhibition to a platform for continuous dialogue and interaction: now the business events take place monthly throughout the year, and the February event is the largest Congress in Russia and the CIS for developing solutions and exchanging experience, a meeting place for managers and specialists from all sectors of the Russian economy.
12 conferences and 2 round tables were held during the three days of the Forum, 258 speakers shared their experience and current issues, 98 exhibitors presented new technologies and equipment and 26 Forum partners demonstrated expertise and projects for key sectors of the Russian economy.
Among the speakers — regulators, major customers, developers and recognized experts, including: Alexander Gorbatko (DIT of Moscow), Alexander Kochegarov (Gazprom Neft), Nikolay Budzinsky (Nornickel), Alexander Shevchenko (Moscow security), Vitaly Lutz (GenPlan Moscow Institute), Nikolay Ilyin (FSO of Russia), Eugeny Shein (Sheremetyevo International Airport), Igor Kozubenko (Ministry of Transport of Russia), Mikhail Kachan (Ministry of Energy of Russia), Nikita Fedortsov (Moscow Metro), Konstantin Gorbunov (Russian Railways), Sergey Vasilchenko (Federal passenger company), Alexey Dorokhov (Moscow Canal), Eugeny Lobanov (TAGMET), Dmitry Zlodiv (VTB Bank), Alexey Danilevsky (Raiffeisenbank), Igor Lysov (Rosbank), Dmitry Manannikov (OBI) and many others.
First time in the program:
Conference "Situation, analytical and dispatch centers: cross-industry experience"
Conference "Managing security at events and venues of mass gathering": shopping centers and offices, sports and concert venues, museums, theaters, libraries, parks
Conference "Industry 4.0. The practice of implementation of information technologies: transport, telecom, energy"
Conference "UAVs: industry specifics. Application practice and threat"
Round table " building smart quarters: results and prospects"
Round table "Intelligent video surveillance in security systems. Cross-industry case studies"
44 new participants demonstrated their solutions at the technology show, including 3C GROUP LTD, Bosch Security Systems, IBS Platformix, InfoWatch, Mail.ru for business, PBF Group, ABLOY, AV Soft, Alcatel-Lucent Enterprise CIS, Almaz-SP, AMICON, Argut, ACC, Barnet, BellSoft, Vidau, Diamant, dormacaba Eurasia, DSSL, Euromobile, Innovative Fire Safety Systems, INFOSECURITY, Source Plus, Sozvezdie Concern, M2media, Scientific and engineering center "Technologies", Panasonic Rus, ProSoft-Biometrics, RELEX, Rostelecom-Solar, RTI, RuSIEM, SIB, Systematics Trade, Smart Line Inc, Speclab, NPO Speсtechnika, Sputnik, STILSOFT, NPO Strela, SUPERTEL, EPOTOS, UniTech, etc.
For the first time, a full program of meetings with customers in the VIP-Lounge was implemented: 78 representatives of customers and 181 representatives of companies and partners participating in the Forum took part in 17 meetings.
According to preliminary estimates, 7 497 managers and specialists attended the Forum, and 4 277 delegates participated in the business program.
The International Forum of Security and Safety Technologies under the leadership of an organizing Committee, takes into account the national agenda: investment in security, personnel training, infrastructure development and development of new products and systems.
In 2020, TB Forum was supported by partners as: Confident group of companies, Security Code, Smart Line Inc, InfoWatch, IBS Platformix, WLIBOR Systems, Rostelecom-Solar, Kaspersky company, ELVIS-PLUS, SUPERTEL, RuSIEM, EPOTOS, AMT GROUP, Panasonic, Neoscan, Pozhtekhnika, GCS (Systematics Group), dormacaba Eurasia, DAHUA technologies Rus, Bosch Security Systems, DSSL, Security Vision, RELEX, Institute of engineering physics, fLAMAX, Mona (3M).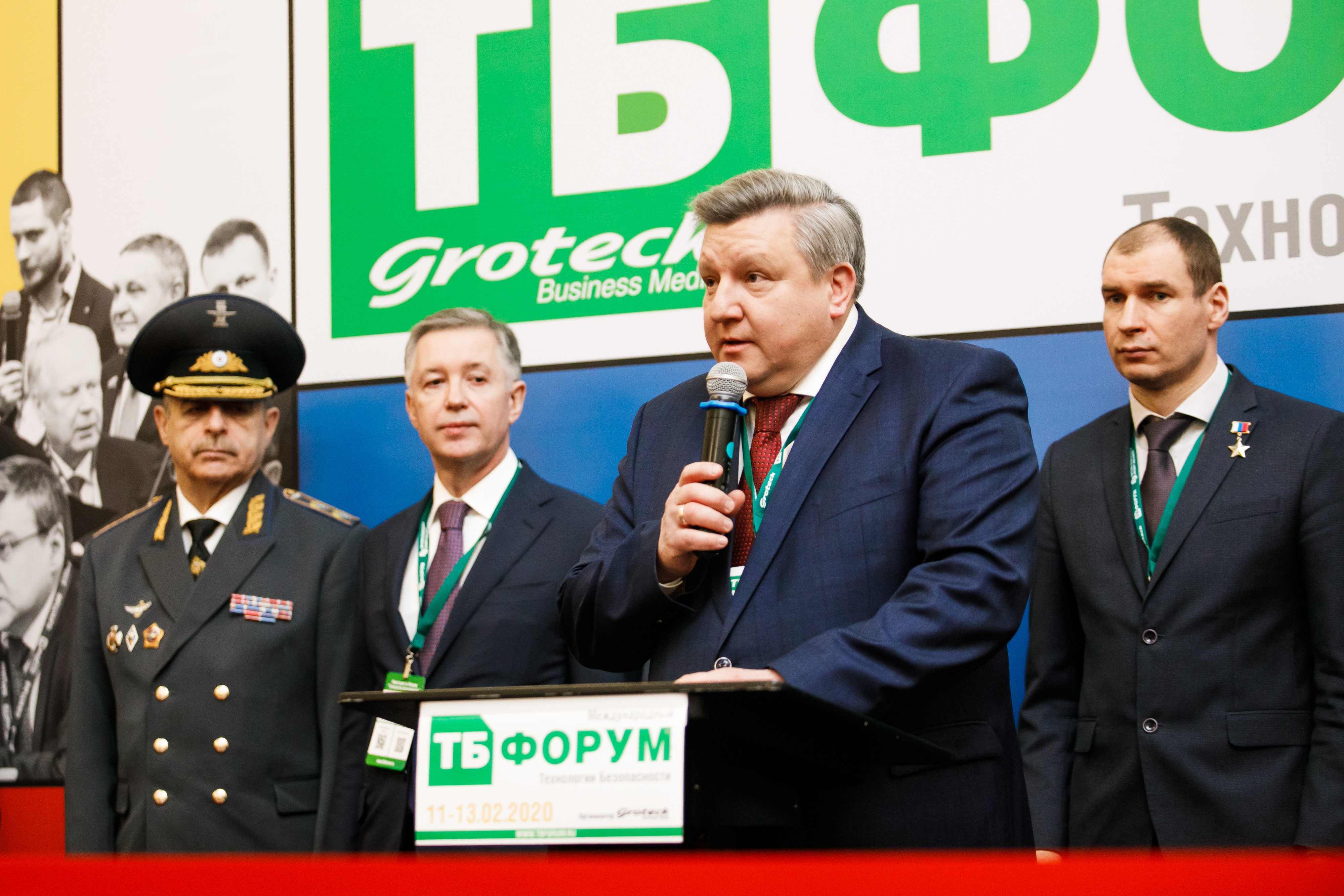 Right now, we offer our partners and participants the best prices and conditions, we offer them to take the best places in the exhibition of the Forumfor the next year, and most importantly — to create an annual program of meetings with customers in your interests.
Book your participation in TB Forum 2021 until March 16, 2020 at this year's prices: eng.tbforum.ru/participate-new