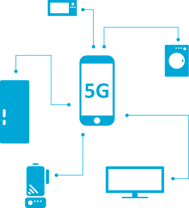 Tele2, Ericsson and Rostelecom concluded the agreement on creating a 5G test zone in Moscow in July-October 2019. will be held on the network of Tele2 in the 27 GHz range on the equipment of Ericsson with a use of Rostelecom channels.
The appropriate agreement was signed by Sergey Emdin, CEO of Tele2, Börje Ekholm, managing Director of Ericsson and Michail Oseevsky, President of Rostelecom at St. Petersburg International Economic Forum in June 2019.

The 5G zone will be deployed at Tele2 networks in the 27 GHz range on the ERS equipment with a 5G technology. Tele2 and Rostelecom have all the necessary licenses and network infrastructure to test. In its turn, Ericsson has all technical solutions for 5G networks, and also the expertise of its implementation and integration. Ericsson equipment already has 8 deployed 5G networks in USA, Europe, Asia and Australia.

The implementation of technologies of the fifth generation will let Tele2 to offer services of the mobile broadband data transmission, based on such advantages as a high speed and little delay. The use of 5G technologies will develop the level of services and their creation, including the field of industrial automatization, drones, distant medicine and virtual and augmented reality.