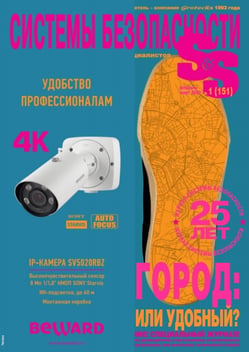 Experts estimate the ideological readiness of the world to become totally digital at 80 percent. The rapid growth of IP technologies, the development of video analytics tools and the impact of artificial intelligence on all the processes of development of society affect the security sphere, which provides not only quality of life and sustainable development today, but also the national and technological sovereignty of the state.
Following the trends of the development of the industry, the Security & Safety Magazine is also changing. The small segment "Digital transformation: AI, smart city, IoT" is becoming a fully-fledged section, "video surveillance" is expanding to "video surveillance and video analytics", materials about unmanned aircraft systems, integrated solutions, new types of threats and counteractions to them are published more often.
In this issue our focus is on the smart city and digital utilities sector. According to UN estimates, global urbanization is already more than 50% and will reach 70% by 2050. Major megacities generate 57% of global GDP, and corporations are choosing between cities more often than between countries.
It is cities that face a large number of problems, challenges and threats – transport, environmental, migration... That's why the transformation of urban development management, which is based on advanced and innovative technologies, big data and digitalization, is inevitable.
Smart cities are the main driver for the development of video analytics, which worldwide market grows by 21.5% each year: vehicle license plate, people and emotions recognition, detection of abandoned objects, analyzing flows of people and vehicles... So the editorial found it appropriate to make a special project "Cameras with video analytics" in this issue and brought a wide range of experts to the discussion.
Another focus is on IP-intercom, which can become an important part of a unified urban environment: to provide access control and video monitoring of the surrounding residential area, communication with emergency services, and notification of the population in case of emergencies.
Finally, the issue presents the special section "Best products 2019. New products 2020" for the new business season.
More than fifty experts participated in making the issue and collected a lot of interesting, informative and polemical material under this cover.
Read the first issue of the Security & Safety Magazine here >>