On May 26-28, 2020, 667 security industry executives and specialists participated in the Secuteck ADAPT online program. Within three days 15 brands presented their solutions and product innovations. The audience of each event was from 112 to 201 listeners.
The next series of Secuteck ADAPT events will take place on June 9-10 and June 23-26. In addition to the center of consultations, reviews of new products and solutions, product conferences and round tables:
June 9, Industry 4.0: implementation of machine vision, production video analytics systems, artificial intelligence. Case studies from FosAgro, NIPIGAS, RUSAL, RUSAGRO, ARMZ Uranium Holding Co. This is the conference with 2 performances available
June 10. Reviews of new products and solutions. Consultation center. There are 4 time slots available
June 23, AgroTech: intelligent technologies in agriculture. Cases of Rusagro, NIPIGAS, Cherkizovo Group. This is the conference with 3 performances available
June 25. Reviews of new products and solutions. Consultation center. There are 4 time slots available. Closed round table with customers regarding intelligent technologies in retail
June 26. Reviews of new products and solutions. Consultation center. There are 4 time slots available
The program of events on May 26 — 28 was extremely busy.
Tuesday, May 26
Natalia Khazova, CEO of Pozhtechnika group, spoke about fire risks at agro-industrial enterprises, modern fire prevention, detection and extinguishing systems, features of design, installation and operation of such systems in the presentation called "Agro-industrial enterprises: risks associated with fire hazards, solutions, practices".
At the conference about video analytics and machine vision in security systems at large facilities, experts discussed cases and technologies for the most promising areas of their application. Industrial cases and real projects were presented by Vadim Shchemelinin (SIBUR), Pavel Kurochkin (NIPIGAS), Tatyana Milek (Rusagro), Victoria Kozlova (Tander), Artur Kuzin (X5 Retail Group). Dmitry Evdokimov (HeadPoint), Maxim Soroka (Vitec), Sergey Grachev (Hikvision Russia), Vasily Dolgov (VizorLabs), Ivan Volkov (TRASSIR), Andrey Matveenko (SAS Russia) reviewed solutions and promising technologies. In a discussion with representatives from NIPIGAZ, TAGMET, SIBUR, TMK, Metalloinvest, Tander (MAGNET), X5 Retail Group, Apatit (PhosAgro), experts shared their tasks, problems and current issues.
Wednesday, May 27
Konstantin Sapozhnikov, a leading expert at Bosch, presented the main solutions and approaches in the segment of building a modern security video surveillance system, and also highlighted the key features of video analytics built into cameras, including machine learning algorithms, in the report called "Bosch solutions for video surveillance. The present and future of video analytics".
Vladimir Kudelkin, President of the Integra-S Consortium and Fedor Ilyin, technical director of Integra-S, spoke about the implemented projects of digital security systems in transport and manufacturing in the presentation "Digital intelligent security systems based on 4D-GIS".
Alexey Klokov, developer of the ACS Gate brand of Ravelin company, analyzed a number of topical issues of organizing car rides taking into account the brand's 20-year experience, the current state of access control technologies in general and the specifics of housing complexes and business centers in the report "Features of organizing automobile access to the territory of housing complexes and business centers. Standard solutions".
Nikita Kozhemyakin, managing director of ISBC, presented the latest achievements of his company in the report "Russian smart cards, RFID identifiers and ACS readers from ISBC company".
Konstantin Sapozhnikov, a leading expert at Bosch, and Pavel Sersky, head of the Hi-Tech Security ACS division, a distributor of Bosch equipment in Russia and CIS, discussed the main advantages of the comprehensive platform for integration of security systems, as well as the key hardware components necessary for effective protection of modern buildings in the presentation "integrated security system from Bosch".
Thursday, May 28
Oleg Grishanin, CEO of Speclab company, told how to rebuild the company to work in any epidemic without the risk of infection in his presentation "The virus isn't a hindrance to business if there is artificial intelligence. Report from the opening Europe."
Timofey Kolotovkin, development director from rubetek company, shared the experience of creating and applying wireless solutions in the field of fire safety at mass residential housing, commercial property, social facilities, including hospitals, in the report "Modern solutions of fire safety from rubetek".
Vladimir Sokolov, an expert of building security systems at AHI Carrier, and Pavel Sersky, head of the hi-Tech Security ACS division at AHI Carrier, a distributor of equipment in Russia and CIS, presented two tools to help partners and customers to control and manage access cards in relation to COVID-19 in the presentation "New features of the LenelS2 OnGuard 7.6 platform".
Vasily Volkovitsky, head of the offer preparation department at Honeywell Building Technologies, and Pavel Sersky, head of the Hi-Tech Security ACS division at AHI Carrier, a distributor of Honeywell equipment in Russia and CIS, spoke about the new solution from Honeywell - integrated Pro-Watch 5.0. security system in the report "Integrated solutions based on Honeywell Pro-Watch ® 5.0 software. The art of event visualization in comprehensive security systems".
Ilya Akkerman, head of technical support at Honeywell Fire and PA/VA Solutions, made a final presentation of the event: "Esser by Honeywell fire alarm system and Variodyn D1 voice alert system - overview of the main features and advantages".
A closed round table of customers and suppliers within the program of annual International Forum of Security & Safety Technologies 2021 "Monitoring and incident management: situation analysing and dispatch centers" completed a three-day marathon of seminars, exchange of expertise and consultations. Representatives of SIBUR, Gelendzhik Airport, NIIAS, TAGMET, NIPIGAS, the Russian Museum, Russian Railways, Federal passenger company, Moscow metro and
Agroanalytics Center exchanged practical cases of applying risk assessment methods, methods of predictive analysis and forecasting of the situation, software tools used, ways to display integrated analytics, existing decision support systems.
Participation in a series of events on the Secuteck ADAPT platform allows you to:
regularly receive new contacts and new reasons to communicate with customers,
speed up the development of relations with clients, including continuing communication without pauses in the online meeting room for consultations,
support the purchasing funnel and the sales funnel thanks to the full communication and a combination of different formats.
Secuteck ADAPT audience: a lively and constantly updated community of professionals - subscribers of publications, visitors of exhibitions and forums — more than 25 thousand managers and specialists interested in studying new equipment, successful practices, solutions, and finding reliable partners and suppliers.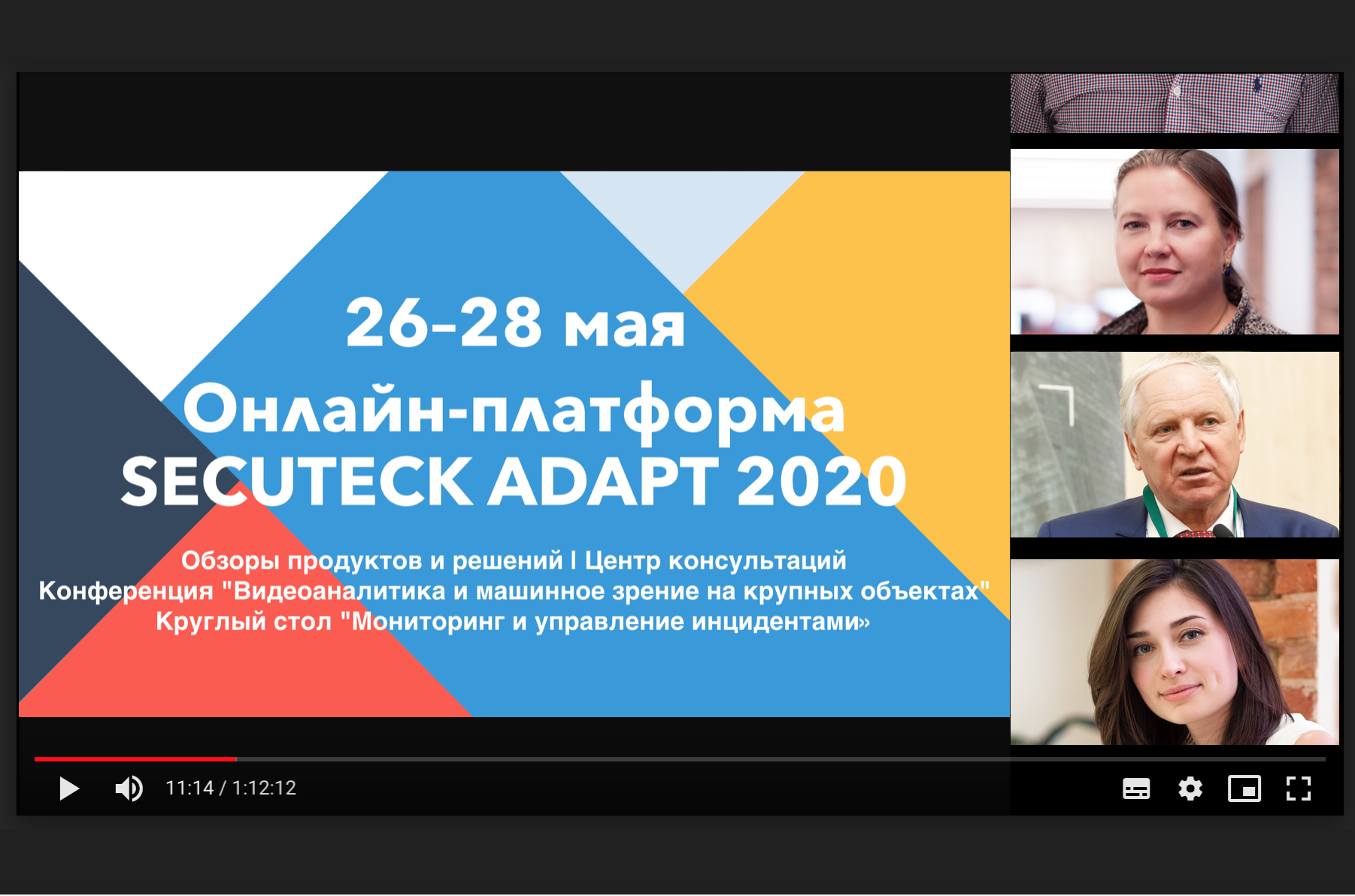 We invite manufacturers and suppliers of security systems and technologies to join the program and get:
prepared and interested target audience,
ability to continue communication in an online meeting room for consultations,
profile of the audience that confirmed their interest to the seminar and offers.
In case of your interest to participate or visit, please send your request to skochko@groteck.ru