Information Security Magazine by InfoSecurity Russia met with Yakov Grodzensky, Head of Information Security Products Department at "Syssoft", one of the leading system integrators and distributors on the Russian market. Yakov spoke on some trends & insights of the Russian information security market and shed some light on the problem of becoming key player of the market in fast changing conditions.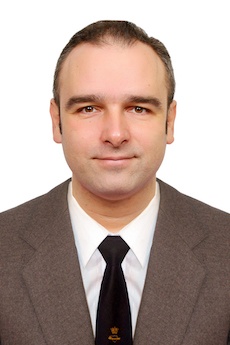 Yakov shares some updates on current market & competitive situation and highlights some solutions in highest demand now.
Has the import substitution policy affected the choice of the end consumer? What are the key trends of the Russian market? Can the local vendors compete with the global players and giants?
"I should say that information security is the sphere where, in my opinion, Russian developers have great chances to compete with Western providers, and in some cases - this has already happened".
Read the full version of the interview in our blog:
---
- How long has your company been on the market?
Syssoft has been operating on the market since 2008. Having an initial focus on software and hardware supplies, we have been expanding spheres of our business and now we are a multi-service provider of IT solutions, and the information security market is one of the key markets for us.
- What verticals (energy, retail, etc.) is your company dealing with?

The company's business is diversified, we are working with almost all of the market segments and business sectors. If we talk about the implementation of information security projects, the largest number of projects we carry out are from financial and telecom sectors, as well as at state-owned enterprises.
- What foreign companies do you cooperate with?

Today Syssoft has several thousand clients with foreign ones surely being among them. These include the Russian representative offices of the largest foreign banks, for example, BNP Paribas, retail segment companies and many others.
-Which solutions from global vendors are now in most demand and in which sectors of Russian market?

Global vendors are leading in such solution categories as anti-fraud, data protection on mobile devices, code analysis solutions, SIEM-solutions, as well as in a number of others. At the same time, I should say that information security is the sphere where, in my opinion, Russian developers have great chances to compete with Western providers, and in some cases - this has already happened.
Solutions from global vendors are in great demand in those sectors of the market where import substitution does not constitute a determining factor, as well as when addressing challenges not requiring FSTEC certificate, which obtaining by a number of vendors is quite a significant problem due to the need to disclose the software source code.
- Has import substitution affected the choice of the end consumer?

We can see that import substitution plays a certain and rather significant role indeed, however, first of all, where Russian developers compete on an equal footing with global vendors. If a global vendor's solution significantly exceeds the Russian counterparts, it will be chosen in many cases. By all means, it is true that import substitution had firstly an impact on the choice of customers, and first of all public sector.
- Has the strategy and pricing policies of foreign producers changed in the last couple of years?
I have not seen cases of systemic price reductions by global producers associated with a financial crisis or import substitution policy. Certainly, during specific tender and pre-tender procedures many vendors are ready to make special offers. As for the strategy of foreign companies, then, of course, it is connected with the opposition to dynamically changing methods and vectors of attacks. For example, only a year ago the so-called "sandboxes" were considered almost a panacea for targeted attacks, however cybercriminals have adapted to them as well, and are already undertaking (quite successfully sometimes) attempts to penetrate the company's network by initially discovering, and then – by bypassing the "sandbox", using a variety of tricks.
- Could you point out any trends in using solutions from global vendors?

The trends are related to global IT tendencies and peculiarities of Russian legislation. If we talk about Russian legislation, we need to understand that the information security industry is one of the most regulated and this has certainly a significant impact on the market, as I have already mentioned earlier. As for the global IT trends, companies are offering more and more solutions with an emphasis on cloud technologies, as well as SecAaS-class solutions.
###
About Syssoft is a multiservice provider and system integrator, provider of cloud solutions, software and hardware in Russia and the CIS. It has been operating on the market since 2008. The company specializes in the implementation of infrastructure and engineering IT projects, the deployment of private and public clouds, the provision of cloud services (software as a service), the supply of licensed software and hardware. The solutions are based on one of Russia's largest catalogs of licensed software and hardware: Syssoft Is an official partner of more than 1,000 global and Russian vendors, such as Microsoft, Kaspersky Labs, AutoDesk, Adobe, and many others. Sys Soft services also include hardware leasing, integrated IT audit and IT consulting, BI (Business Intelligence).
The company is listed among the Top 100 Largest IT Companies in Russia (CNews, 2016 and ТAdviser, 2016), the Top 20 Fastest Growing IT Companies (CNews, 2016), the Top 30 Largest Providers of Information Security Services, Development and Supply of Solutions and Data Protection Systems (CNews, 2015), the Top 30 Largest IT Suppliers for Transport Companies (CNews, 2016), the Top 10 Most Effective Companies (CNews, 2016), the Top 20 Largest Suppliers of BI Solutions in Russia (Cnews, 2016), the Top 60 Largest Suppliers of IT Solutions for Public Sector (CNews, 2016). Syssoft has QMS Certificate of Conformance according to ISO 9001:2015.
---
Be part of InfoSecurity Russia 2017. Discuss the key trends that impact the industry and profiles of leading suppliers of the market in Russia and join the professional society serving information security in Russia.