Globally, big vendors' marketing strategy is aimed to the events with increased ROI. Most of international companies prefer to focus on the big projects and large private Russian customers in industry, retail, real estate, construction, medicine, health and education sectors since Russian large corporate segment remains stable. The traditional trade show format with its cumbersome constructions build up only for image and prestige and huge expenses is loosing its efficiently nowadays. Thus, global vendors prefer educational seminars and ConfEx format events.
This is exactly what we are doing at TB Forum powered by Intersec. TB Forum is a widely-known national physical security event which runs in the new environment and brings together the high profile visitors representing the most of purchasing power buyers. Must-attend event for the Hi-End security products buyers and vendors.
While Russian government procurement is substantial, private entities, mainly in Retail, Oil&Gas, Manufacturing Industry, Transportation, Banking, Power Generation & Energy are also important buyers of a wide variety of security equipment. Totally, that totally keep up to 82% of the all market volume. And they form the key TB Forum audience: 52% of visitors are end-users (buyers) from the government and the biggest enterprises.
Could be interesting for you to visit to look around and get an opinion about this part of market.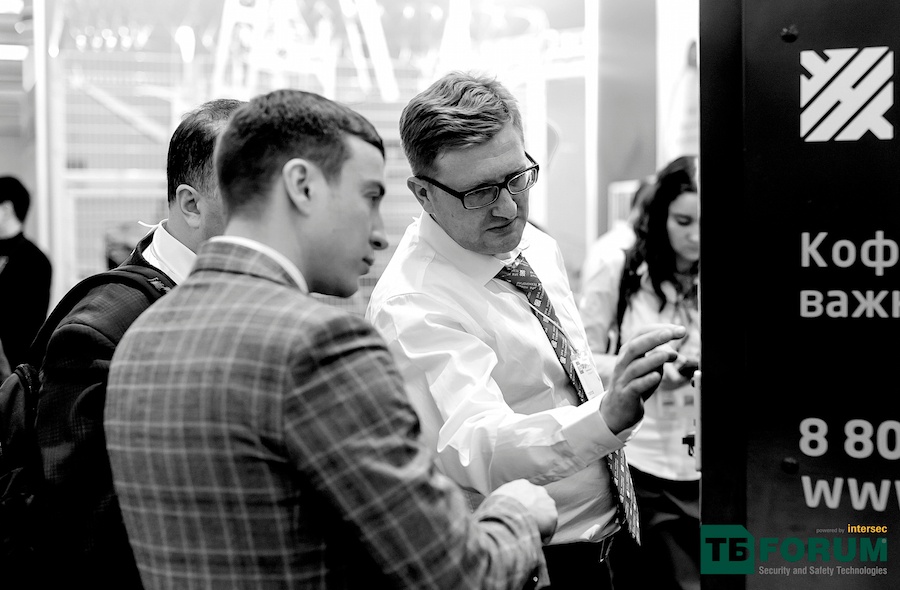 1. Real opportunities and real money. Historically, since 1995, TB Forum has been integrated into the security purchases system in Russia. TB Forum visitors purchase 65% of equipment and 71% of services on the Russian security market.

2. TB Forum is 100% relevant to the decision-making schedule of Russia's major security customers. February is the highest local business season after the New Year holidays and before the long spring holiday season.

3. TB Forum exhibitors benefit from and enjoy a number of brand awareness and lead generation support. Being focused on business output (such as amounts of business contacts, leads, visitor satisfaction rates) and moderating the dialogue between vendors and buyers, we create real value for exhibitors and sponsors.

4. TB Forum agenda and product categories are based on the actual Russian buyers demand and investments in security. TB Forum exhibition and programme attract and serve security professionals within a range of verticals including oil and gas, energy, transportation, sports facilities, banking and finance sector, city management and surveillance, critical infrastructure and facilities, industrial plants, education and healthcare, retail, telecom, law enforcement and investigation. The exhibition covers the broadest portfolio of security products including perimeter protection, video surveillance, intruder and burglary alarms, access control, cyber security, identity management, counter-terror, security screening and detection, monitoring solutions, homeland security, fire protection and prevention.

5. The idea behind TB Forum is attract most cutting-edge security technologies and provide big Russian buyers with the best products and solutions. TB Forum exhibitors benefit from the highest visitor quality and numbers (9000+), the best visitor per exhibitor ratio in the industry, and most advanced business support and lead generation services – before, during and after the show.

---
If you are willing to know where to meet people in charge of implementing and purchasing security systems and demonstrate the advantages of your equipment and solutions, submit your proposal to participate at TB Forum powered by Intersec 2017.

For evaluating opportunities please contact:
Olga Inshakova
Show Director TB Forum powered by Intersec,
Business Development
Groteck Business Media
Find me on LinkedIn
Still in doubt about opportunities and limitations for international vendors in Russia?
Fill out the form and our team will provide you with a Market Overview in 2 days.